"Based on profitability, Bokusgruppen aims to contribute to a sustainable and democratic society, enabling future generations to also have the opportunity to experience the joy of reading."
Together, we assume a major responsibility for realising our vision, and sustainability is an important aspect of this, not only for us and our stakeholders, but above all for the planet and the future. Our sustainability work is focused on four main areas: Joy of Reading, Product Range, Environment and Employees.
2021 started with a major overhaul of Bokusgruppen's sustainability work. We have appointed a new sustainability manager and a sustainability management team. We have revised our strategies and sustainability areas and updated our long-term objectives. We have implemented, or are in the process of implementing, an impact analysis, materiality analysis and stakeholder dialogue as well as a CO₂ analysis of our entire operations. We have also appointed cross-functional teams, which will work further on sub-targets and actions during the year.
Sustainability strategies and objectives
Bokusgruppen has four overall sustainability strategies and seven sustainability areas with overall objectives. The sustainability work is headed by Bokusgruppen's sustainability manager together with a sustainability management team, and is conducted in cross-functional teams connected to each particular sustainability area.
Joy of reading
We will work actively on initiatives that promote reading and thereby contribute to getting more adults and children to read regularly and thus experience the joy of reading. Reading and languages are decisive for the development of both the individual and society, and Bokusgruppen is an important player in this endeavour.
Product range
We shall ensure a sustainable, reliable and long-term customer offering. Together with our suppliers, we will ensure that our products and services are safe, maintain high quality, have a long lifecycle and are produced in a responsible manner.
Environment and climate
We shall work actively to reduce our operations' adverse impact on the environment and climate, by making improvements in terms of transport, packaging, consumption of energy, recycling and reuse. We also want to give our customers the right conditions for making correct choices from an environmental and climate perspective.
Employees
We shall offer a safe, developmental and fair workplace that utilises people's differences and capabilities.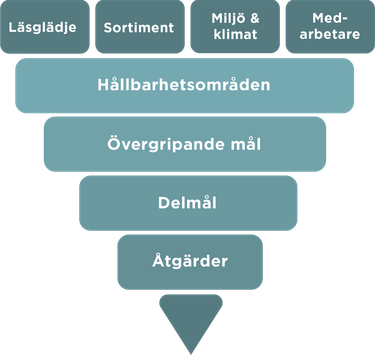 Sustainability areas and overall objectives
| Our seven sustainability areas | Overall objectives |
| --- | --- |
| Initiatives to promote reading for everyone | Contribute to increased reading among adults and children in Sweden |
| Data integrity and data security | No incidents related to data security and data integrity |
| Sustainable supply chain | Greater focus on ensuring sustainable supply chains |
| Safe, high-quality products and services | Deliver high-quality products and services without health and safety deficiencies, at least in accordance with EU legislation |
| Circular economy, reuse and environmental impact in business operations | Minimise the environmental impact of the business operations through increased recycling and reuse and reduced use of resources |
| Energy consumption and climate impact | Reduce our total CO₂ emissions by 25% |
| Inclusion and diversity | Increased diversity and inclusion without discrimination and victimisation |
Target follow-up
Our overall objectives apply until 2025. Sub-targets are being formulated by cross-functional sustainability teams connected to the various sustainability areas and will apply for periods of one to three years. In addition to formulating the sub-targets, the cross-functional teams have been tasked with integrating sustainability work throughout the business.
The sustainability teams report to the sustainability manager and the sustainability management team. Target fulfilment is measured continuously and reported in the annual sustainability report.
Sustainability Report 2021
We follow up our sustainability work annually in our sustainability report. Take a look at our latest sustainability report below, in Swedish.
Annual and Sustainability Report 2021