Objective: To be the customer's preferred choice
Our goal is to be the preferred choice for as many customers as possible through complementary customer offerings that suit different needs and preferences. Dedicated employees and loyal customers are the key to long-term sustainable sales growth, which, in combination with efficient implementation, ensures stable earnings development. Stable earnings enable continued business development in step with a changing world.
We have chosen to divide our targets into three parts that are closely linked together and integrated in our daily operations.
Our targets are our most important steering documents and are continuously monitored.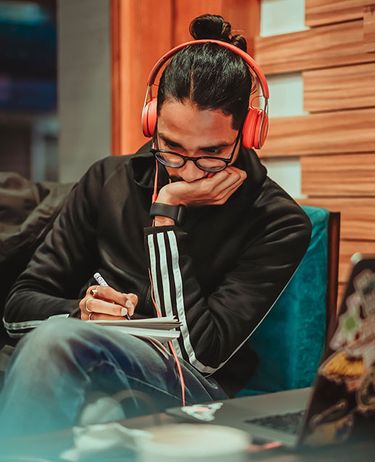 Our strategies
The value shelf expresses our targets and direction
Bokusgruppen's targets and strategies are summarised in a value shelf which consists of five strategic building blocks, supported by a strong enduring and unifying corporate culture. The value shelf shows how we create value for our customers, employees and owners and how we create the best possible conditions for achieving our targets and delivering on our vision: Everyone should experience the joy of reading, every day!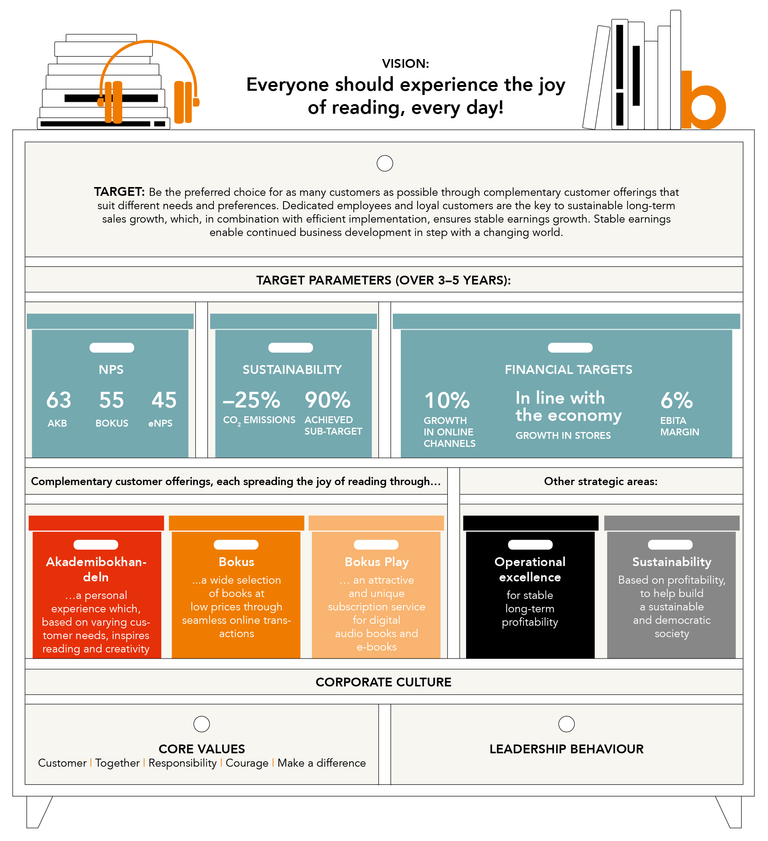 Five strategic building blocks
Bokusgruppen has five strategic building blocks. Three directly linked to our customer offerings, through three complimentary brands, and two comprehensive areas; one for sustainability and one for profitability improvements.
Three complimentary brands and a unique market position
The overall target, to be the preferred choice by as many as possible, is reached through the three complimentary brands Bokus, Bokus Play och Akademibokhandeln. Through these we meet all types of customer preferences, no matter in what channel our customers chose to make their purchases.
No other Swedish market player has a complete offering with all book formats in physical and digital channels as well as an inspiring and creative assortment (Skriva Spela Skapa). With three strong brands which all contribute to the vision Joy of reading, every day! we reach a large part of the Swedish population.
In all channels we focus on creating growth. Our target is to increase market shares in the growing online- and play channels, and in the physical stores we want to grow on par with the market.
No other player has a comprehensive offering covering all physical and digital channels. Our three complementary brands enable us to reach out to the whole of Sweden – digitally and physically.
Sustainability
Bokusgruppen has an important role in society and shall contribute to the positive development of society to enable future generations to experience the joy of reading.
Our sustainability work focuses on the joy of reading, employees, product range and environment & climate.
Our sustainability management is integrated in our business and an integral part of our employees' daily operations. Customers, suppliers and other stakeholders also have high expectations on our sustianability efforts.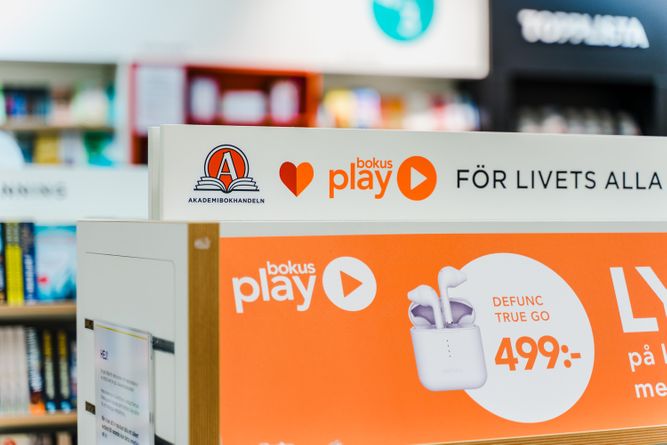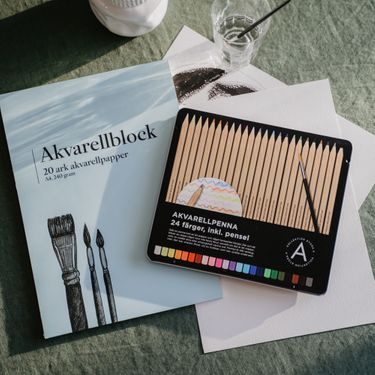 Profitability improvements
Constant focus on profitability improvements are a hallmark of Bokusgruppen, and all the three segments show good profitability.
A large part is about continously strengthen our gross margins through automated price optimisation, a well-balanced product range and through successful supplier negotiations. We also work continously on staffing optimisation and lease negotiations to improve profitability of our store business.
Going forward, our focus is on developing better IT-tools for improved efficiency and automisation. This will have a positive effect on the share of fixed costs part of sales. Our focus on profitabillity is noticeable both in our daily operations and in our work to develop our business for the future.

Our values
Our values are important to us. Our entire business culture is based on five values, which are well established by all our employees and present in our daily business.
Our CUSTOMERS are the most important thing we have and are the focus of everything we do.
We have the COURAGE to challenge ourselves and invest in new solutions based on customer needs.
We take RESPONSIBILITY in our relationships and for running a profitable and sustainable business.
We work TOGETHER. We make use of each other's knowledge and experience, show trust and give everyone the opportunity to develop while enjoying their work.
We make a DIFFERENCE for our customers, colleagues and for society as a whole.